The board is designed to comply to the MangOH™ IoT Expansion Card Form Factor. This means that it supports the mangOH™ open hardware standard defined by Sierra Wireless and is compatible with both the mangOH™ red board and mangOH™ green board. It is a great building block to get wireless networking in any mangOH™ system.
The FX30/mangOH™ Expansion Boards from Radiocrafts is designed to be the gateway in a LPWAN wireless sensor network and to provide cloud connectivity based on a Sierra Wireless 3G/4G LTE Gateway. The result is a low cost Industrial Internet of Things (IoT) solution to bring sensor data to the cloud applications. The expansion boards support industry proven wireless protocols such as Wireless M-Bus, RC232 and Tinymesh.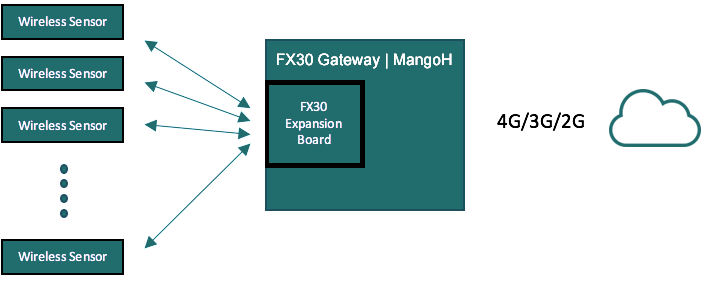 FX30/mangOH™ Expansion Board Benefits



Detailed description
The boards contain an RF module giving wireless connectivity, and the interface circuitry to the host processor in the gateway. The card has an SMA connector for connecting the external antenna.
The insertion board series include several different products supporting different frequencies and radio protocols. The embedded protocol inside the RF module handles all RF communication and only data payload and easy-to-use commands are sent over the UART or SPI serial bus to/from the gateway processor.
Supported Protocols and Network Standards
Wireless M-Bus
IEEE 802.15.4g
RC232/TinyMesh
ZigBee
Features
On-board radio module with embedded protocol
Easy-to-use UART/SPI interface connects to powerful Sierra Wireless-internal WP module
RF interface with SMA connector connects to any standard antenna
Same PCB supports modules from a large portfolio of RF modules
Miniature LED indicators (connects to RF module-processor)
CE certified module for EU frequencies
FCC pre-qualified for dedicated RF modules
Product Selection Table
Ordering Number
Module Description
Availability
RC1180-MBUS3-FX30
Embedded Wireless M-Bus protocol (EN13757-4:2013, 868 MHz radio)
Standard parts

RC2400HP-ZNM-FX30
ZNM module for 2.45 GHz mesh
RC1701HP-MBUS4-FX30
Embedded Wireless M-Bus protocol (EN13757-4:2013, 169  MHz radio) for gas, water, heat and electricity meter readings
RC1880CEF-FX30
IEEE 802.15.4g connectivity
RC1180-RC232-FX30

RC1190-RC232-FX30

868 and 915 MHz high speed modules, RC232 protocol
Non standard parts. Contact Radiocrafts sales for lead time and MOQ
RC1180-TM-FX30
Tinymesh gateway
RC1170-TM-FX30
RC1701HP-RC232
169 MHz module with RC232 firmware
Other variants are available upon request.
Product Documents
The documents cover general technical information about the Radiocrafts FX30 Expansion Board.
Demo software for the FX30/MangOH Expansion Board
The demo software for the FX30/MangOH Expansion Board by Radiocrafts creates a connection from the Wireless M-Bus connected sensor, on to the FX30/MangOH Expansion board, and on to the FX30 gateway and finally up to an AWS (Amazon Web Server)
The software was created to show how easy it is to create a complete connection from a Sensor to the Cloud. The demo connects a pulse counter from a "virtual water meter" over Wireless M-BUS to the FX30/MangOH Expansion Board, on to the FX30 gateway and up to an AWS in the cloud. Read the Sensor to Cloud User Manual here.
The software is delivered pre-installed in the FX30 Sensor to Cloud demo-kit.
We also make it available as source code on "as-is, no support" basis, for customer or partners who would like to use the code as a starting point for their own development of a sensor to cloud solution.
Anyone downloading and using the software will accept, by downloading the file, the Radiocrafts Software License Agreement for the Demo software for the FX30/MangOH Expansion Board.
Sierra Wireless Gateway
The FX30 from Sierra Wireless the industry's smallest, most rugged programmable 3G/4G LTE cellular Gateway. Expanding it with short range wireless technology from Radiocrafts makes it a versatile solution, covering a wide range of applications and standards.
The FX30 Gateway has an internal slot for expansion cards, where the Radiocrafts expansion card is plugged in. The interface between the main Gateway CPU and the expansion cards are via UART or SPI.
You can find more information on Sierra Wireless website.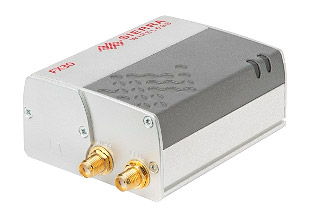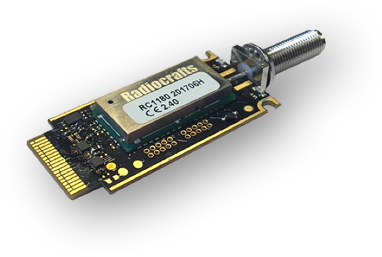 Have any questions? Please fill in the form below!