169 MHz LPWAN for Hard to Reach Objects

Long Range - Great Object Penetration – Battery Operation
Wize is a 169 MHz IIoT technology designed to achieve long range, great object penetration, and long battery life. It is based on Wireless M-Bus mode N which has been used in millions of gas and water meters in commercial operation for several years.
It is specially designed for deployments on a territory-wide scale which require integration in a constrained environment: metering, public lighting, energy management of buildings, smart mobility, etc.
Communications from one object to the gateways are carried out in broadcast mode in both directions which allows multiple gateways to receive the same message from an object. Therefore, this system increases the performance of the radio solution by providing redundancy and high availability in the system.
The deployment of the network is simple and fast because the technology requires a minimum of equipment (a communicating object and a concentrator): no repeater system, no pairing or complex programming sensor.
The Wize network can be built using the RC1701HP-WIZE module.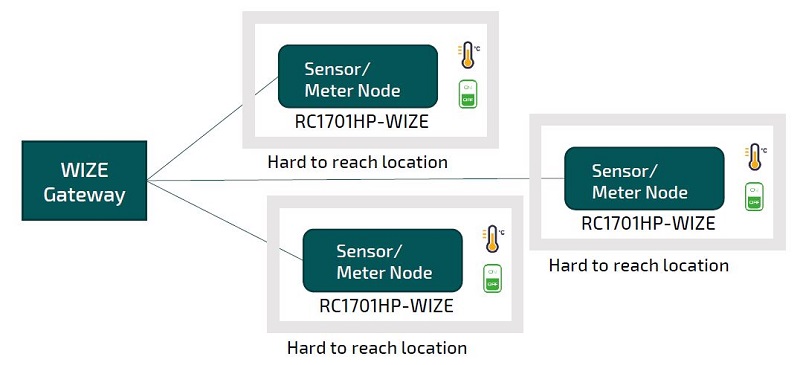 Strong Industry Backing
Wize Alliance is an open, non-profit association that promotes an international standard for the Industrial Internet of Things. The organization brings together major international players from the industrial and utility sectors to support the implementation of the Long Range Wide Area Network technology called Wize
Over 40 companies have already joined the Alliance.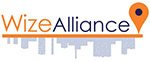 Long RF range and great coverage
The RF range between the Wize network nodes is impressing. The range with no obstructions in the radio path is an impressive 20km and the average Building Penetration Loss (BPL) is great. See the table below with data from IEEE Transactions on Antennas and Propagation ( Volume: 63 , Issue: 4 , April 2015 ), Analysis of Outdoor-to-Indoor Propagation at 169 MHz for Smart Metering Applications.
| | | | | |
| --- | --- | --- | --- | --- |
| Frequency | Standards | Excessive loss relative to 169 MHz (dBm) | Average building penetration loss (dB) | Relative range (6dB > 2x range advantage) |
| 169 MHz | Wize / wM-Bus | 0 | 7.5 | 100% |
| 500 MHz | - | 9.5 | 11 | 23% |
| 800/900 MHz | LTE, GSM, NB-IoT | 14.5 | 12 | 16% |
| 2.4 GHz | WiFi, Zigbee | 26.3 | 17 | 8% |
Low Power
Low current TX/Rx/Sleep
TX 403 mA@ 27 dBm
RX 31.7 mA
Sleep 2 uA max
A Wize node can last 10 years on two C-cell batteries (6000 mAh capacity batteries) while sending 12 bytes every hour, 24 hours per day.
Future proofed with Over-the-air (OTA) updates
Your product will be future-proofed by Wize' over-the-air updates. OTA updates are possible because of Wize' two-way communication channel and the module's internal flash memory.
Built on proven standards
Wize is based on the European standard 13757-x, also used for Wireless M-Bus mode N. This is implemented in millions of water and gas meters installed around Europe and in Africa.
Existing infrastructure
Many network owners in Europe and Africa has Wize network installed for Smart City applications. The RC1701HP-WIZE is compliant to this infrastructure. Please check the Wize Alliance web site for more details.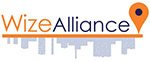 Own Gateway
The RC1701HP-WIZE Development Board is for all practical purposes a 1 channel Wize gateway!
Copy the design and integrate the module on your own gateway. (For a PCB Layout recommendation click here.)
Add a mechanical housing
DONE!
For more details, go to the Wize module and tools page (to be released.)