Event Driven Framework (EDF)
The Event Driven Framework enables designers to create their own application on a network leaf node using less than 100 line of high level C-code. All code is hosted in the RF module.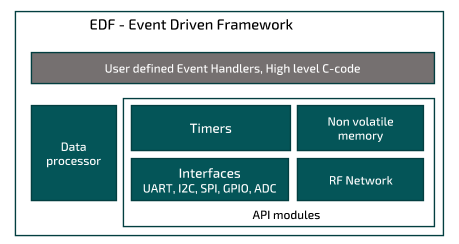 The user can program the Event Driven Framework (EDF) by event handlers written in high level C language. An event handler reacts to a defined trigger and the performs the actions defined by the user. The user uses high level C to define the trigger and the actions, an if-this-than-that topology.
This allows designers with no understanding of a real time operating system, or knowledge of the of the architecture of the chip-set, to create an intelligent network node, such as:
Initiate transmit to base-station based on local triggers
Any required sensor/actuator interface, including complex bus interfaces
Complex event driven control and/or transmit
Local signal processing
Advanced security
Local data logging
Local alarms
Advanced RF protocol
An EDF code example

Example code to setup an application with I2C, GPIO, and periodic timer.
void Setup()
{
// I2C clock speed to the SHT35 sensor
I2C.init(I2C_400KHZ);
// setup the button GPIO and event detection
GPIO.setDirection(GPIO_0, PIN_INPUT);
GPIO.setHandler(GPIO_0, FALLING_EDGE, sendData);
// setup periodic timer events
readSensorTimer = Timer.create(PERIODIC, 30 * SECOND, readSensor);
Timer.start(readSensorTimer);
}