RC1702HP Module For Custom Applications
The RC1702HP is a compact surface-mounted module that measures only 12.7 x 25.4 x 3.7 mm. The module got several optional peripherals (EEPROM, 32 kHz crystal oscillator) and interfaces and is suitable as a versatile platform for custom variants for various applications using the 169 MHz frequency band. The module contains an ultra narrowband radio transceiver, temperature compensated crystal oscillator, power amplifier and a communication controller with embedded software. The radio is pre-certified for operation under the European regulations (CE, RoHS, REACH).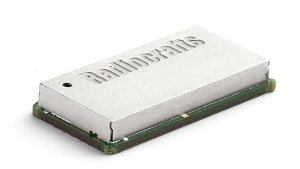 The module is used as a versatile customizable hardware platform which can be an autonomous system (no external MCU required) running the full application code. For example; battery operated water and gas meters, low power environmental sensors and actuators for various industrial applications.

High Penetration Properties



Pre-Certified Under European Regulations



Versatile Platform For Custom Variants


The Module Benefits Include:
Long range, high reliabilty
Ultra narrowband, high-performance radio
High sensitivity and high selectivity
High blocking properties
High RF Power, long range (up to 20 km Line-Of-Sight)
Completely shielded module
2.75 – 3.8 V supply voltage
Ultra low power modes
Conforms with EU RED directive (EN 300 220, EN 301 489, EN 60950), RoHS, REACH
RC1702HP Module Reference Data:
| | | |
| --- | --- | --- |
| | | |
| | | |
| | | |
| | | |
| | | |
| | | |
| Supply Voltage Internal PA | | |
| Current Consumption, RX / IDLE | | |
| Current Consumption Tx (+27 dBm) | | |
| Current Consumption - SLEEP | | |
| | | |
Some examples of external peripherals that have been supported in various customized applications include:
IRDa interface for local communication
NFC interface for local communication
Interface to RTC (real time clock) chip for timekeeping / calendar
External EEPROM memory for storing firmware image for over-the-air updates
Pulse inputs with counters (forward and reverse) for mechanical water and gas meters
SPI interface to metrology controller or sensor
I2C interface to sensors
Digital inputs for tamper alarm switch of Hall sensor
Battery voltage supervision using the ADC
Radiocrafts will provide full application circuits for the external peripherals (IRDa, NFC, RTC, EEPROM etc).
The module has been used in smart metering applications successfully implementing ultra-low power operation with 15 years battery lifetime on single AA-cell. The module provided an NFC interface for local configuration and over-the-air (OTA) firmware update with a two-way Wireless M-Bus or Wize compliant communication protocol. The complete data acquisition management and transmission scheduling was done by the internal MCU application code.