KNX is an international standard and preferred communication protocol developed for building automation. An RF module with a complete KNX-RF Multi stack ensures inter-operability and the most compact solution for integration of wireless into your wired KNX_System. Radiocrafts is a long standing member of the KNX Association participating in the development of the RF Multi standard, and provides a short time to market compact module solution to be used in home appliances and gateways.

COMPATIBLE WITH WIRED KNX

OPEN INTERNATIONAL STANDARD

AUTO ACKNOWLEDGE UP TO 64 SLAVES 
KNX Module Selection
RC11 series is a cost effective sub-GHz platform that supports 433/865/868/915 MHz modules.
| | | | | | | | | | | | | | | |
| --- | --- | --- | --- | --- | --- | --- | --- | --- | --- | --- | --- | --- | --- | --- |
| | | | | | | | | | Operating supply voltage [V] | Operating temperature [deg C] | | | | |
| | 868 | 5 | 16 / 32 | -101 | 24 | 10 | 37 | 0,3 | 2,0 – 3,6 | -40 to +85 | 500 | KNX RF Multi | – | – |
Product Details
The KNX RF Transceiver Module is a compact, surface-mounted, high performance module with embedded KNX-RF Multi protocol as defined by the KNX Association. The module has a UART interface for serial communication and configuration. The module supports a fast link acknowledgment of up to 64 receivers. The module is pre-certified for operation under the European radio regulations for license-free use and measures only 12.7 x 25.4 x 3.3 mm with shielding. When used with quarter-wave antennas a line-of-sight range of 600-800 meter can be achieved. The physical layer complies with the relevant parts of the EN 50090 (ISO/IEC 14543-3).
Embedded KNX-RF Multi protocol
EN 50090 (ISO/IEC 14543-3)
Frequency agility – 5 channels
Fast link acknowledgment
Binding up to 64 receivers
Listen Before Talk & Automatic Retransmission
Multi-hop re-transmitters
Backward compliant with KNX-RF v1.1 and KNX Ready
Supports unidirectional and bidirectional devices
Ultra low power modes for extended battery lifetime
Configuring a KNX Network
A KNX based building automation system normally consists of a number of sensors which report their readings and status to a concentrator for further processing, or directly triggering actuators. The network topology is one-to-many or peer-to-peer. KNX RF does not use the Master – Slave concept of, for example, Wireless M-Bus. But several receivers can receive the same message based on registering the group (or individual) address of the transmitter. The idea is that receivers can "subscribe" to messages from certain transmitters. The pairing of transmitters and receivers is normally done by a PC-based tool.
The Radiocrafts KNX RF family of modules RC11xx-KNXx can be used both as transmitters or receivers. The module is configured with a unique address (Serial Number), and a Domain Address. When transmitting a sensor reading or command, this address is added to the wireless message. Up to 64 transmitter addresses (the 6 bytes of the extended address) can be registered in one receiver which will then filter messages from only these transmitters.
The "fast ack" is used by the receiver to acknowledge the reception of the message. There are time slots dedicated for up to 64 receivers to send their acknowledgement to the transmitters command. If the command was not acknowledged by all receivers, it will be sent again.
Sensors, which can only be transmitters, can be battery operated as they can be set in sleep mode when not transmitting.
A Repeater can be used to increase the range of the RF system. Messages from transmitters whose address has been registered in the Repeater will be re-transmitted, in up to 6 hops.
| File type: | File name: | File description: |
| --- | --- | --- |
| | | This document is a short form version of the data sheet for the RC1180-KNX2 module. It includes the preliminary information of the product such as features, specifications, application circuit, and pin assignment. |
| | | This User Manual for KNX modules is a step by step introduction on how to use our module with the KNX protocol. This document describes the KNX feature sets, KNX-RF embedded protocol, the UART interface and timing, power management, and supply voltage. This document also includes the descriptions of the KNX1 and KNX2 protocols. |
| File type: | File name: | File description: |
| --- | --- | --- |
| | | Different applications and different use-cases will need different wireless connectivity technologies. Therefore, selecting the right wireless technology is a critical design decision. Based on radio performance requirements and other criteria, this selection guide will point out the differences between the technologies to help selecting the right one. |
| | | This is a short Application Note on the use of license free RF modules in New Zealand, and in particular which modules from Radiocrafts will meet the local radio regulations. |
| | | There are many different wireless standards and technologies available to enable the internet of things (IOT). The different technologies have different pros and cons depending on the use case and the end customer. Trying to keep up with the latest wireless trends can drain a company of all its resources and take away attention from its core business. The solution recommended by Radiocrafts is to use a modular approach and a common RF module footprint that enables all the technologies offered by Radiocrafts without needing modifications to the PCB. |
| | | When selecting the right radio technology, the achievable communication range is an important factor. This document reviews how to analyse radio range based on parameters provided in the data sheets for the different module families. Some measurement results from practical range testing are also shown. |
| | | The purpose of this document is to list some of the most common issues that customers report when using Radiocrafts modules, and the solutions to these issues. |
| | | The Radiocrafts Demo Boards and USB-sticks include an on-board firmware upgrade connector compatible with different flash programming adapters. It is also recommended that PCB layouts include a connector for firmware upgrades. This Application Note describes how to upgrade the firmware of any Radiocrafts RF module using either a CC Debugger or the FlashPro-CC tools. |
| | | The RC1xx0 and RC2x00 series of RF Modules with integrated protocol offer easy adaptation of wireless communication utilizing a simple UART serial interface. In their standard versions, without any required configuration, the modules offer two pins for controlling PA, LNA, and SPDTs for signal switching. Two SPDTs are required since there is only one RF pin on the Radiocrafts modules. |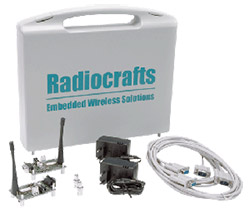 For all our KNX modules, Development Kit suitcases are available for rapid prototyping and proof of concept. The kits contain:
Two Development Boards with the module of choice, onboard USB level shifter, USB connector, SMA antenna connector, and I/O break-out
Quarterwave stub antennas with SMA connector
USB cables
Additionally, the HP variants include AC/DC Power Supplies with Country specific converters
One kit will make a wireless link "out of the box" and feature easy access to all the modules I/O-pins. The kit can be used together with the PC software tools.
| File type: | File name: | File description: |
| --- | --- | --- |
| | | The Demonstration Kit from Radiocrafts is designed to make it easy for the user to evaluate the module, develop an application and build prototypes. Bundled with the Demonstration Kit is the RCTools PC software to be used together with the Demo Boards. |
| | | This User Manual describes how to use the Demonstration Kit for the RC11xx; RC12xx; RC2xxx module series and provides detailed documentation for the Demonstration Board. |
| File type: | File name: | File description: |
| --- | --- | --- |
| | | RCTools is a powerful and easy to use PC suite that helps you during testing, development and deployment of the Radiocrafts modules. The RCTools includes RC_CCT, RC_SA and RC_DT stand-alone applications running under windows .Net Framework. The RCTools is free of charge and easily installed (including .NET and USB Driver) by running the setup file. |
| | | RC Tools-KNX contains the PC tools for design with the KNX family. It includes the CCT tool and the Demo tool. Note: KNX uses the Wireless MBUS tools suite. |
| | | The KNX DEMO (Demonstration Tool) provides a packet sniffer and a tool to generate and transmit KNX data packets. The KNX-DEMO is covered by the same User Manual as MBUS-DEMO. |
| | | The KNX CCT (Configuration & Communication Tool) helps you work with your Radiocrafts modules. The program enables you to easily configure the module and can additionally work as a terminal window, where data can be sent or received to / from any serial port. The RSSI (Received Signal Strength Indicator) informs you about the Link budget and helps you estimate range. The KNX-CCT is covered by the same User Manual as MBUS-CCT. |
What is KNX?
The standard is based on the communication stack of EIB but enlarged with the physical layers, configuration modes, and application experience of BatiBUS and EHS. KNX defines several physical communication media such as Twisted Pair wiring (inherited from the BatiBUS and EIB Instabus standards); powerline networking (inherited from EIB and EHS – similar to that used by X10); radio (KNX-RF); Infrared; Ethernet (also known as EIBnet/IP or KNXnet/IP).
KNX is designed to be independent of any particular hardware platform. The most common installation is using twisted pair as a medium.
The traditional installations used twisted pair, but the new KNX RF Multi provides a reliable wireless alternative that simplifies the installation and reduces costs. The "Multi" protocol adds frequency agility and link layer acknowledge/retransmission, hence ensuring communication reliability.

For any module inquiries please contact our local partner.
Or buy online at Digikey.com
| | | | | |
| --- | --- | --- | --- | --- |
| | | | | Buy Development Kit Online |
| | | | | |