KNX is an international standard and preferred communication protocol developed for building automation. An RF module with a complete KNX-RF Multi stack ensures inter-operability and the most compact solution for integration into your end products at a low cost. Radiocrafts is a long standing member of the KNX Association participating in the development of the RF Multi standard, and provides a short time to market compact module solution to be used in home appliances and gateways.


OPEN INTERNATIONAL STANDARD

AUTO ACKNOWLEDGE UP TO 64 SLAVES 
KNX RF Module Selection
| | | | | | | | | | | | | |
| --- | --- | --- | --- | --- | --- | --- | --- | --- | --- | --- | --- | --- |
| Module | Frequency band[MHz] | Radio channels [#] | Data rate [kbps] | RX sensitivity [dBm] | RX current [mA] | Pout [dBm] | TX current [mA] | SLEEP current [uA] | Operating supply voltage [V] | Operating temperature [deg C] | Indicative LOS [m] | Region / compliance |
| RC1180-KNX2 | 868 | 5 | 16 / 32 | -101 | 24 | 10 | 37 | 0,3 | 2,0 – 3,6 | -40 to +85 | 500 | KNX-RF Multi / EU / CE |
Product Details
The KNX RF Transceiver Module is a compact surface-mounted high performance module with embedded KNX-RF Multi protocol as defined by the KNX Association. The module has a UART interface for serial communication and configuration. The module supports a fast link acknowledgment of up to 64 receivers. The module is pre-certified for operation under the European radio regulations for license-free use and measures only 12.7 x 25.4 x 3.3 mm with shielding. When used with quarter-wave antennas a line-of-sight range of 600-800 meter can be achieved. The physical layer complies with the relevant parts of the EN 50090 (ISO/IEC 14543-3).
Embedded KNX-RF Multi protocol
EN 50090 (ISO/IEC 14543-3)
Frequency agility – 5 channels
Fast link acknowledgment
Binding up to 64 receivers
Listen Before Talk & Automatic Retransmission
Multi-hop re-transmitters
Backward compliant with KNX-RF v1.1 and KNX Ready
Supports unidirectional and bidirectional devices
Ultra low power modes for extended battery lifetime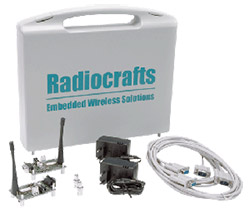 For all our KNX modules, Development Kit suitcases are available for rapid prototyping and proof of concept. The kits contain:
Two Development Boards with the module of choice, onboard USB level shifter and USB connector, SMA antenna connector, I/O break-out
Quarterwave stub antennas with SMA connector
USB cables
The HP variants include additionally AC/DC Power Supplies
One kit will make a wireless link "out of the box" and feature easy access to all the modules I/O-pins. The kit can be used together with the PC software tools.
RCxxxxDK-USB Quick Start 1.1     


This is a quick start guide for the Development Kit.
RCxxxxDK-USB User Manual 1.12     


This is a complete User Manual for the Development Kit, how to set it up and use it. It also includes schematics and layout for the Development Boards.
Read the installation guide prior to download or installation: RCTools Installation guide  
Download Our Tools:
The RCTools-KNX contains PC software tools supporting modules with the KNX-RF protocol.
The KNX-CCT (Configuration & Communication Tool) helps you to work with your Radiocrafts modules. The program enables you to easily configure the module and can additionally work as a terminal window, where data can be sent or received to / from any serial port. The RSSI (Received Signal Strength Indicator) informs you about the Link budget and helps you estimate range. The KNX-CCT is covered by the same User Manual as MBUS-CCT.
MBUS Configuration & Communication Tool User Manual    

The KNX-DEMO (Demonstration Tool) provides a packet sniffer and a tool to generate and transmit KNX data packets. The KNX-DEMO is covered by the same User Manual as MBUS-DEMO.
MBUS-Demo User Manual     

What is KNX RF ?
The standard is based on the communication stack of EIB but enlarged with the physical layers, configuration modes and application experience of BatiBUS and EHS. KNX defines several physical communication media, such as Twisted Pair wiring (inherited from the BatiBUS and EIB Instabus standards); powerline networking (inherited from EIB and EHS – similar to that used by X10); radio (KNX-RF); Infrared; Ethernet (also known as EIBnet/IP or KNXnet/IP).
KNX is designed to be independent of any particular hardware platform. The most common installation is using twisted pair as medium.
The traditional installations used twisted pair, but the new KNX RF Multi provides a reliable wireless alternative that simplify the installation and reduce cost. The "Multi" protocol adds frequency agility and link layer acknowledge/retransmission, hence ensuring communication reliability.