Webinars & Video Snippets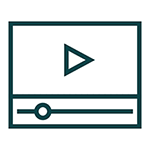 Get Access to the Professional Insights by Radiocrafts Leading Engineers
Radiocrafts has been involved in a variety of projects over the last couple of decades that required many different competencies and experiences. Over time, leading engineers at Radiocrafts developed an expertise that has helped in delivering millions of modules in the RF Module market. We have recognized that this expertise is in high demand. Because of this, we have decided to host a series of online webinars, where we train and discuss various topics, all related to wireless communication. Additionally, we have created short and informative video snippets which are either extracts from the RF expert's webinar presentations we host, or, videos we have made ourselves with the purpose of helping you improve your knowledge in the wireless communication world.
Note: Webinar invites will be sent out via email approximately 2 weeks prior to the scheduled webinar, and will be posted below where you can click the "register now" button to register.  
"RIIM Mesh – Optimized For Low Power And High Data Traffic!"
💻 Join Radiocrafts in this webinar as we discuss the latest major release of our market-leading long range mesh solution, RIIM, which now supports ultra-low power consumption and a 150 kbps mode for high data throughput applications! 🔋
📢 In this webinar we will discuss: 📢
📌 RIIM's ultra-low power consumption enabling devices to operate 15 years on 2xAA batteries.
📌 How RIIM handles large amounts of data traffic while showing superb reliability in packet delivery rate.
📌 How RIIM achieves these results and how it compares to other solutions?
✍️ Register for the webinar below! You won't want to miss this one! 😍
Date: 28th of September, 10:00 am CEST
Watch Our Video Snippets!
How To Get Started With RIIM: Part 1 – How To Setup A RIIM Development Kit
How To Get Started With RIIM: Part 2 – How To Run a RIIM Network Using The RIIM SDK

How To Get Started With RIIM: Part 3 – How To Create Your Own ICI Application
How To Get Started With RIIM: Part 4 – How To Configure And Install A RIIM Network Using PAN IDs
How To Get Started With RIIM: Part 5 – How To Connect The RIIM Network To The Cloud Using ThingsBoard As An Example
High-Throughput Networking With Polite Spectrum Access in RIIM demo
Time Synchronization in RIIM
How To Use Microsoft Visual Studio Code With The RIIM SDK
Ultra Low Power Consumption Demo With RIIM
How to Achieve Deep Sleep in RIIM
High-Throughput Networking Demo With RIIM Mesh Technology!
Uploading New Platforms To The RIIM Module!
How To Get Started With RC232 RCTools
How To Install The RC232 RCTools
Quick & Easy Sensor To Cloud Setup – How the Whole System Works – Part 1 of 3
Quick & Easy Sensor To Cloud Setup – Setup Radiocrafts ICI Interface – Part 2 of 3
Quick & Easy Sensor To Cloud Setup – RIIoT To Cloud Setup Demo – Part 3 of 3
1. Intro to Tinymesh Part 1
2. Intro to Tinymesh Part 2
3. Introduction to TinySolution Cloud Platform
4. A Practical Tinymesh Network Demo
5. How to Configure a Tinymesh Device
6. How to Configure Serial Port Communication in Transparent Mode
7. How to Configure Serial Port Communication in Packet Mode
8. How to do Digital Output Control
9. How to do Digital Dimming Control
Webinar Extracted Video Snippets
LPWAN vs WSN: Technology Comparisons
Customer Success Through Customized Modules With Radiocrafts!
Customer Success Through Turn-Key Projects With Radiocrafts!
Wireless M-Bus Video Snippets
Ep1: Wireless M-Bus Snippet: Modes
Ep2: Wireless M-Bus Snippet: Use Cases
Ep3: Wireless M-Bus Snippet: Security Modes
Ep4: Wireless M-Bus Snippet: Battery Lifetime
Ep5: Wireless M-Bus Snippet: OMS