Webinars & Video Snippets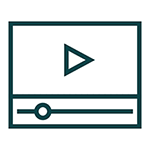 Get Access to the Professional Insights by Radiocrafts Leading Engineers
Radiocrafts has been involved in a variety of projects over the last 15 years that required many different competencies and experiences. Over time, leading engineers at Radiocrafts developed an expertise that has helped in delivering millions of modules in the RF Module market. We have recognized that this expertise is in high demand. Because of this, we have decided to host a series of online webinars, where we train and discuss various topics, all related to wireless communication. Additionally, we have created short and informative video snippets which are either extracts from the RF expert's webinar presentations we host, or, videos we have made ourselves with the purpose of helping you improve your knowledge in the wireless communication world.
Note: Webinar invites will be sent out via email approximately 2 weeks prior to the scheduled webinar, and will be posted below where you can click the "register now" button to register.  
Register for the Upcoming Online Webinar Session!
How to Actualize A Long Range Wireless Network With Many Sensors
Hosted on: May 23rd, 2019 at 10 am CEST (Central European Summer Time); 9 am CET (Central European Time)
Main Discussion Points:
Learn about spectrum limitations.
Learn about what regulations have to say on the topic.

Learn how to compromise within the set limitations.  
Note: Registration is now available below!

| | | |
| --- | --- | --- |
| Webinar Topic | Month Hosted | Presenter |
| 169 MHz Pros and Cons in LPWAN Solutions | June | Peder Martin Evjen, Managing Director |
| Designing and Verifying a Wireless Sensor For 10 Years Battery Lifetime | July | Ørjan Nottveit, R&D Director |
| Security (Making Your IoT Solution Secure) | August | Ørjan Nottveit, R&D Director |
Watch Our Video Snippets!
Quick & Easy Sensor To Cloud Setup – How the Whole System Works – Part 1 of 3
Quick & Easy Sensor To Cloud Setup – Setup Radiocrafts ICI Interface – Part 2 of 3
Webinar Extracted Video Snippets
LPWAN vs WSN: Technology Comparisons
Ep1: Wireless M-Bus Snippet: Modes
Ep2: Wireless M-Bus Snippet: Use Cases
Ep3: Wireless M-Bus Snippet: Security Modes
Ep4: Wireless M-Bus Snippet: Battery Lifetime
Ep5: Wireless M-Bus Snippet: OMS