Radiocrafts offers customization of modules, turn-key solutions, and direct support to clients that engage in high volume module business with us.
Our RF expertise and design support has enabled many clients to create successful RF solutions with short development times for numerous design challenges, including when their in-house design resources were not sufficient.

Benefit from Radiocrafts' long experience in the following expertises:
Customization of antenna and/or the antenna matching
PCB layout, particularly for RF
Power management (low power battery operation)
Design for EMC compliance
Complete turn-key designs (production ready)
Certification for CE and FCC compliance
Customization of the RF module
New frequency bands or radio regulations
Adaption of the protocol stack
Customized control for autonomous solutions
Customized interfaces (sensors, pulse inputs)
Find out more information about the benefits you can get out of a turn-key design or customized radio with Radiocrafts in the videos below!
Radiocrafts has helped several customers with design projects in the past: 

Suez – Smart & Environmental Solutions
169 MHz Wize Devices (169 MHz)
"Radiocrafts modules allowed us to develop products quickly and efficiently when the projected quantities were limited and could not support the NRE of a full radio product development, and, when the timeline of the project could not allow for a complete development. Especially, the precertification of the modules is a strong benefit." – Samuel Loyson, Head of Smart Metering

Sonitor
Ultrasound-based RTLS (Real-Time Location System) indoor positioning technology (2.4 GHz)
"The Radiocrafts module is a key component in our Sonitor® SenseTM RTLS (Real-Time Location System) indoor positioning technology. Being a reliable, high-quality supplier of radio modules, Radiocrafts has supplied us with more than a hundred thousand modules that are designed into our Sense RTLS platform now installed in well over 200 global facilities. Using a readymade module simplifies the design, the production, test and maintenance, as well as radio certification." – Sandra Rasmussen, Senior VP in Global Marketing and North America Sales

Hanbit Solutions
Walk-By Automatic Meter Reading System (865 MHz)
"With confidence in Radiocrafts technology and team, we bid for and won a tender where the bid winner should supply 10k walk-by AMR devices for gas metering complying with the existing supplier's protocol. Unfortunately, the details provided in the tender were insufficient for implementing the protocol. However, with great support and expertise from Radiocrafts we successfully completed the project to the client's satisfaction. It was well appreciated by the client, that with strong effort by Hanbit and Radiocrafts, this project was possible to execute despite the many challenges. This experience has definitely boosted my confidence in Radiocrafts and strengthened our relationship to a different level. A big thanks for Mr. Peder Martin Evjen and the Radiocrafts team." – Phani Varanasi, CEO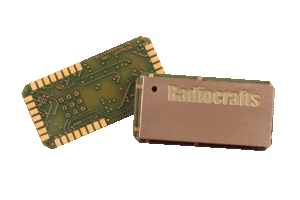 Read more about our customer success stories using a customized module from Radiocrafts on our website! 
Do you have a high volume project that requires a custom solution? Contact Radiocrafts us at sales@radiocrafts.com or via our contact form! We are happy to support our customers from proof-of-concept all the way through to full production!