Schedule a Teams Meeting with Radiocrafts or leave a message on our contact form to learn more about our world-leading Wireless M-Bus modules for Smart Metering!

Do you need a proven, cost-effective, and modernised modular solution for your smart metering  Application which requires low R&D investments? Then a Radiocrafts world-leading Wireless M-Bus module is the solution for you!

Proven Industry Solution

Turn-key Design and Customization of Modules

Over 2 Million Modules Sold Worldwide
Proven and Mature Developments Tools

Secure, Encryption and Authentication

Two-Way Communication
We are successfully working with many established companies in the Smart Metering industry. You could be our next partner! Just a few examples include: 

Radiocrafts' Long Experience and Expertise in Smart Metering
An RF module from Radiocrafts is always compatible with the latest additions to the Wireless M-Bus standard as Radiocrafts is an active contributor of technical expertise to the standardization work, both at the European level (CEN) and at the national level (OMS and WIZE). Radiocrafts is a leading provider of 868 MHz and 169 MHz Wireless M-Bus modules with an installation base of more than 2 million units. Our modules are being used by many of the top-tier companies in the metering industry.
In Germany, Radiocrafts took part in the first pilots in 2010 with more than 100k units. Now, Radiocrafts modules are used in the first BSI-certified Smart Meter Gateways to meet the requirements for secure communication. Large deployments of water meters in France are now using the Radiocrafts WIZE protocol modules operating at 169 MHz.
For non-European deployments, Radiocrafts provides RF modules operating at 433 (New Zealand / Australia, Middle-East, Latin America), 865 (India), 868 (Russia) and 915/923 MHz (USA, Canada and more).
Radiocrafts also offer design services in order to customize a solution for easy integration into Smart Meters. We have extensive experience in high-quality radio communication, battery power management and antenna design. Radiocrafts is working with several leading meter manufactures to provide tailored solution based on Wireless M-Bus and WIZE.
Radiocrafts' Solution For Smart Metering - Wireless M-Bus
There are many considerations to take into account when designing a Smart Meter Communication System, such as:
The radio communication protocol should be compliant to standards (Wireless M-Bus, OMS, Wize) as well as local radio regulations (such as RED or FCC part 15).
The R&D investment (time and money) must be considered when implementing the radio communication part of the meter.
The lifetime of the Smart Meter, and in particular its battery, must last for 10 – 15 – 20 years.
Finally, choose a technology and operational frequency that is suitable for the planned installation. There are many competing radio technologies contending for Smart Metering. Make sure you use a technology that was developed for this particular use case in mind.
The fastest way to demonstrate technical compliance in a tender bid without large up-front investments, is to use a well proven module solution.
Radiocrafts' Wireless M-Bus modules will ensure that the solution is accepted in the market, is well proven, reliable and secure, using the best industrial practices to meet Smart Metering requirements.

Radiocrafts has an impressive portfolio of Wireless M-Bus modules for Smart Metering applications which will ensure standard-compliance, the flexibility to choose between different modes and frequency bands, save you a lot of R&D investment, will take you fast to market, and are proven in quality.
Our portfolio includes:
1. Standard OMS compliant Wireless M-Bus modules which are frequently used in Metering applications, particularly in Europe.
2. Ultra-narrowband, 169 MHz radios for best noise resilience, penetration properties, and range for meters installed in hard-to-reach places.
3. The Wize module variant is based on the Wireless M-Bus mode N (169 MHz). It is specially designed for deployments where the gas meter / water meter /sensors are located in hard-to-reach places. The Wize protocol has added new encryption and authentication, a structured command set, and a protocol for firmware download over-the-air. It is intended for smart metering, public lighting, energy management of buildings, smart mobility, etc.
4. The challenging response time requirements in Wireless M-Bus (time between receiving a message, until transmitting the response), demands a special solution to handle two-way communication between a gateway and multiple meters. Radiocrafts has developed a patented solution for this challenge as the only provider in the world. This unique patented technology using a mailbox and pre-cooked messages ensures that two-way communication can be handled with a large number of meters all using individual encryption keys.
5. Application specific Wireless M-Bus modules such as our MPC1 module for pulse counting, alarm supervision, and transmission scheduling.
6. MSM modules with intelligent sensor interfaces.
7. For high volume-business we also offer customization of the modules to integrate other sub-systems. We can offer turn-key solutions including antenna and PCB design. All of this reduces the R&D efforts for our customer and will also save costs in BoM due to higher integration.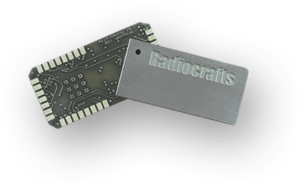 Key considerations for Wireless M-Bus were always low power for battery operations and high-level security to meet the meter-market requirements. This makes Wireless M-Bus an ideal solution for the metering application but also any Industrial application that needs a secure, robust and low-power wireless connection. Our Wireless M-Bus modules give a battery lifetime of over 15 years.
Radiocrafts' Wireless M-Bus modules conform to CE (RED), and are pre-assessed for global operation in different frequency bands. Additionally, Radiocrafts offers Wireless M-Bus development tools which allow the customer to evaluate our products and quickly develop new applications. The tools provide a cost effective and exceptionally fast way of creating a fully functional wireless network.
Support Tools For Wireless M-Bus
We recommend that you buy a Wireless M-Bus Development Kit in your early stage product evaluation. The development kits are designed to be easy to use and to very quickly support a wireless link or network, where you can make a good analysis of the network performance. 
You can buy the Wireless M-Bus Development kit from:
Read more about our Wireless M-Bus solutions here.
Read our extensive documentation on Wireless M-Bus, including datasheets, User Manuals, Development Kit documentation, Application Notes and more, here.
Download Software Tools for Wireless M-Bus here.
Watch tutorial videos on Wireless M-Bus here.
Schedule a Teams Meeting with Radiocrafts or leave a message on our contact form to learn more about our world-leading Wireless M-Bus modules!
Enlit Europe 2022 Exhibition

Meet Radiocrafts at Enlit Europe 2022 in Frankfurt, Germany on November 29th – December 1st !
Schedule a meeting with us at booth number 12.1.G190!
We are looking forward to meeting with you soon!