Radiocrafts is getting ready to release our new state-of-the-art Wireless M-Bus modules with OMS feature sets operating at 433 and 868 MHz.
These modules are a perfect fit for you if you require improved Wireless M-Bus performance, including but not limited to, better packet reception capabilities, improved noise immunity, and higher transmit power for longer range and more reliable Wireless M-Bus networking.
RC1843-MBUS5 – 433 MHz
RC1883-MBUS5 – 868 MHz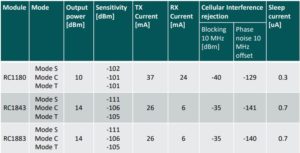 Join the family of alpha customers getting ready to test these new and improved Wireless M-Bus modules! We invite you for a second round of alpha customers looking to take advantage of our world-leading Wireless M-Bus modules to improve your current Wireless M-Bus performance.
If you are interested in taking your Wireless M-Bus solution to the next level, contact us using our contact form or send an email to sales@radiocrafts.com