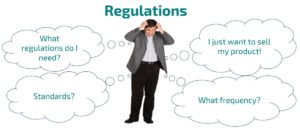 Do you need assistance in choosing a suitable radio module for your project which checks all the boxes for the regulatory and emissions requirements in your country?
With over 20 years of experience in the wireless communication world and hundreds of customers from all over the globe, Radiocrafts has accumulated a wealth of knowledge about world-wide radio regulations for Sub-GHz license free wireless equipment!
We share this expertise with you in our latest webinar, "World-Wide Regulations Guide to Sub-GHz License Free Wireless Equipment", where we discuss global regulatory requirements and accepted frequency bands, including:
Europe – CEPT
Southern Africa – CRASA
Eurasian Economic Union – EAEU
South Asia
USA, Canada, and other countries in the Americas – FCC
China
India and Pakistan
Brazil and Peru – Anatel
Oceania
With this experience, Radiocrafts has produced a massive product line of radio modules supporting every corner of the globe from 169 MHz solutions all the way to 2.4 GHz solutions.
We are happy to hop in a meeting with you to offer technical advice and module recommendations! Contact us.