Radiocrafts has tested and confirmed the long range and high reliability expectations for RIIoT™! Check out our RIIoT™ test results, use cases, and important features which you could use for your business!
According to Growth Enabler and other market analysis done, the global IoT market share will be dominated by 3 subsectors: smart cities at 26%, industrial IoT at 24%, and connected health at 20%.[1] Our focus in this newsletter will be on the industrial IoT, but specifically, RIIoT™, which is Radiocrafts' new low power, long range, and reliable dense IoT RF network, designed to meet the sensor and actuator connectivity requirements for the Industrial IoT.
Radiocrafts performed a couple of range and reliability tests on RIIoT™ which we would like to share with you and then, additionally, we would like to share with you the main use cases for RIIoT™ based on these test results and the features it supports.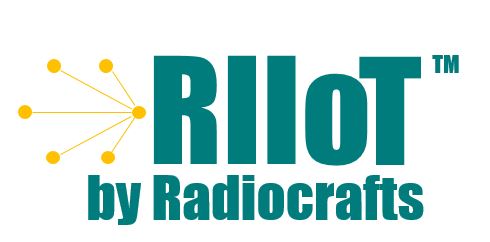 Range Tests:
Line of Sight: Radiocrafts has tested and confirmed that RIIoT™'s 5kbps mode line of sight range is 15km. The measurement was done in December 2018 in Oslo, on top of 2 small mountains 7.5km apart from each other. We measured 100% packet reception with an RSSI value of -99dBm, which gave us a 7dB margin (RSSI is the value of the received signal strength. A 7dB margin means that the distance can be doubled before we get packet losses, so, if we double the distance between the 2 mountains, we get a line of sight range of 15km. RIIoT™'s 5kpbs mode high-power version, which is planned to be released next quarter, will theoretically be able to reach 4x that range, so 60km.
Urban environment: Radiocrafts has also tested and confirmed that RIIoT™'s range in an urban environment is around 500m. We tested RIIoT™'s range at multiple points throughout the area surrounding Radiocrafts' office in the city of Oslo. The GPR module was placed on the window sill in a Radiocrafts office and the sensor node was placed at various points around the surrounding area at different distances and radio conditions. The high-power version of RIIoT™ will support a range of 2km.
Indoor environment: Radiocrafts also tested and confirmed that RIIoT™ successfully covered a 6-floor building, with the weakest signal being -82dBm in the basement floor (floor 0). This is a 20dB margin level which is needed to continue receiving good packets.
To read more about these test results please find the Radiocrafts application note, "AN027: RIIoT™ Range – Basics and Measurement Results".
Reliability Test:
Radiocrafts also performed a reliability test for RIIoT™. The test was to use 28 nodes which sent data randomly every 4 seconds to one gateway. We achieved amazing results having 99.83% good packets received.
Use Cases:
RIIoT™ supports many different features which makes it an excellent technology for certain types of applications. These features include:
Symmetrical 2-way communication
Long Range (60km LOS)
Low Power (10 years on a 60mAh coil cell battery)
Great penetration of obstacles
Very low latency (RIIoT™ long range has a message length of 45ms which is less than 3% of a LoRaWAN long range message.)
Over-the-Air updates
Listen Before Talk
Universal sensor/actuator interface via ICI, Intelligent C-Programmable I/O
High node count of up to 65,000 address spaces (a few hundred with security enabled)
From these features, and many more, we can conclude that RIIoT™ is ideal for harsh environment and control applications, very low power applications, and high node count networks. These kinds of applications include:
Climate/environmental control in large factories
Alarm systems/predictive maintenance
Asset tracking in large sites
Agriculture
Public lighting
Smart buildings, cities, and homes
Supply chain, and many others.
To read more about RIIoT™'s features and applications please click here.