Through extensive experience and feedback in supporting customers using our IP mesh module, RIIM, Radiocrafts has created a GitHub page. This page will be populated with a library of application and feature specific sample codes for quick and easy module testing and product prototyping/Proof of Concepts.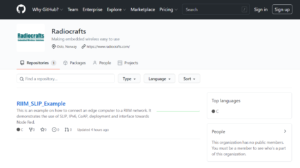 Each sample uploaded on the Radiocrafts GitHub page also comes with:
A description of the end result you will achieve by following the sample code guide.
Hardware and Software requirements.
Links/paths to download and install all essential software and files.
Extensive documentation for a quick, easy, and handheld coding experience.
Radiocrafts' contact form link in case further support is required.
With the new Radiocrafts GitHub page, we strive to keep true to our core principles: Making wireless easy to use for our valued customers by providing high quality and fast to market products and services.
Explore the first sample we have uploaded to the GitHub page, the RIIM_SLIP_Example!
Visit our GitHub Page!