This new Breakout Board, developed and manufactured by GREATECH, works with all Radiocrafts modules and is an efficient way to quickly upgrade your hardware!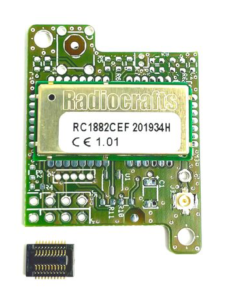 The breakout board is just 28mm x 37mm large, has a u.FL connector, a screw mount option, and UART via header or sub-mini connector. You also have a tact switch option for Wireless M-Bus, LED, reset IC and more.
It is a useful tool, for example, for smaller volume production of new products to test the market.
You just need to select a Radiocrafts module and order the breakout board online here. The breakout board is shipped populated with the Radiocrafts module of your choice.

Radiocrafts has had GREATECH as a partner since day 1. GREATECH has used Radiocrafts' modules in many of their designs, such as, for laser sensors, Wireless M-Bus sensors, MIOTY sensors, CO2 sensors, and more.
GREATECH not only designs and manufactures their own products using Radiocrafts' modules, but also, acts as a distribution partner for Radiocrafts, re-selling our modules to other customers.
Visit GREATECH's website for more information on their products and partnership with Radiocrafts.