Do you want to implement a Radiocrafts RF module into your product design but are unsure about which wireless technology fits your application and performance requirements? Then review Radiocrafts' new application note, AN045: Wireless Connectivity Technologies Selection Guide!

Selecting the right wireless technology for your application is a critical design decision that can often take several months. Based on radio performance requirements and other criteria, Radiocrafts has created a wireless technology selection guide that summarises the differences between the technologies to help you select the right one.
Radiocrafts has always prided ourselves in providing high quality products/support and a fast to market experience for our valued customers. The new application note reflects this goal, allowing our customers to quickly choose the correct technology to evaluate.
The selection guide describes the following criteria for each technology:
Network type
Physical layer properties
Application examples
Main Advantages
Limitations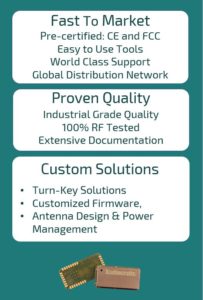 Radiocrafts has a wide range of wireless technology solutions including some open standards and proprietary protocols:
Radiocrafts offers module solutions, and custom designs for all these technologies. All modules are supported by Development Kits for easy testing, evaluation, prototyping, and application development.
You can buy a Radiocrafts development kit from here.
You can download the new Application Note here.