GREATECH has developed and manufactured a new piggy-back board for the MC100 4G Mobile Gateway with Radiocrafts SIGFOX and Wireless M-Bus modules included!

Radiocrafts included on the GREATECH Piggy-Back Board for The MC100 4G Mobile Gateway
GREATECH has developed and manufactured a piggy-back board for MC Technology's new MC100 4G Mobile Gateway which is an industry standard multifunctional mobile platform based on openWRT Linux.
The piggy-back board comes populated with Radiocrafts high quality RF modules, this board uses the world leading Wireless MBUS modules and the popular Sigfox module.
The board includes up to 3 wireless transceivers and has the option to include RTC and a temperature/humidity sensor. Additionally, Node-RED™ is installed on the MC100 gateway which is a programming tool for wiring together hardware devices, APIs and online services in new and interesting ways.
GREATECH has multiplexed all RTS CTS signals on the MC100 gateway so nearly any Radiocrafts modules will fit on it.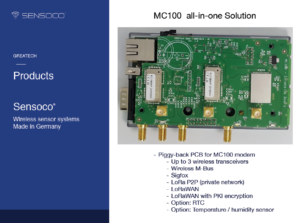 Radiocrafts and Greatech Partnership
Radiocrafts has had GREATECH as a partner since day 1. Greatech has used Radiocrafts modules in many of their designs, such as, for laser sensors, Wireless M-Bus Sensors, PT100 Sensors, and more (link). GREATECH not only designs and manufactures their own products using Radiocrafts modules, but also, distribute the modules to other customers.
You can contact GREATECH here to learn more about their products.
Many times, Sensor products are battery operated and have certain tough requirements regarding security and the reliability of the data communication. All these issues have already been addressed in the development of the Wireless M-Bus standard. The advantage of using an established standard is that it has been developed by teams of industry experts. The solutions are well established and proven in the field. Radiocrafts is considered an industry expert in the Wireless M-Bus standard, taking part in the OMS and CEN groups which continuously work on standardizing and improving on Wireless M-Bus.
You can read more about our Wireless M-Bus modules here.
You can find documentation for our Wireless M-Bus modules here.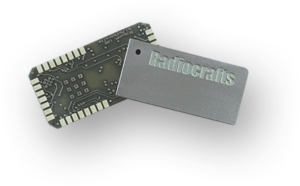 Radiocrafts SIGFOX modules have a very good RF performance that enables compact and innovative antenna solutions that can be taken advantage of for unique product designs and for global solutions. The modules are widely used in a range of IoT applications because of its low network cost for low data rate applications. High-performance radio combined with ultra-low power modes extends battery lifetime and assured communication quality.
You can read more about our SIGFOX modules here.
You can find documentation on our SIGFOX modules here.
Are you interested in evaluating Radiocrafts modules for your own Wireless Sensor Network? Then order a development kit for your preferred Radiocrafts module on Digi-Key!
Buy a Wireless M-Bus development kit here.
Buy a SIGFOX development kit here.
You can download software tools for Wireless M-Bus and SIGFOX here.