Radiocrafts has recently upgraded our MIOTY1 module, the RC1882CEF-MIOTY1, to include:
Up to 245 bytes payload in a single transmission.
Added ATZ command for factory reset.
Added AT%RST command for module reset.
This newly upgraded module and associated development tools are available for sampling purposes as a kick-starter enabling companies like yours to quickly evaluate the technology, build prototypes and do proof of concept with minimum effort and investments.

MIOTY is a low-power wide-area network (LPWAN) with the best-in-class reliability, scalability, and power consumption of all LPWAN solutions that exist to date to support massive industrial and commercial IoT deployments.
Key benefits of the MIOTY technology and module include:
LPWAN: Ultra-narrowband radio with Telegram Splitting technology
Highly resistant to interference
Only LPWAN for massive IoT deployments
More than a million messages per day in one network (single gateway)
Typical 20 km line-of-sight, 5 km in urban environment
License free 868 MHz for Europe. 915 MHz for US / FCC (to be released)
Very low power consumption, short radio transmissions, battery friendly
Pin compatible with other products from Radiocrafts
Shielded compact module, only 12.7 x 25.4 mm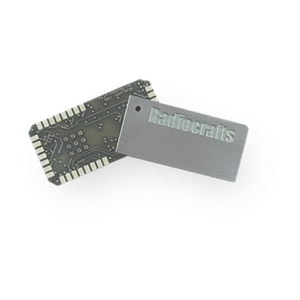 The RC1882CEF-MIOTY1 module supports a UART interface and is based on an AT command set. The module is also supported by a Development Kit that out-of-the-box, is ready to send application data to a Mioty gateway. The module will work with any third-party Mioty gateway.
Interested? Buy a development kit and/or samples from Digi-Key or from a Distribution Partner near you!