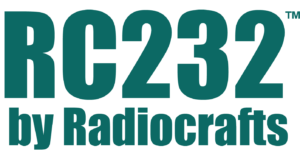 Are you evaluating or developing with Radiocrafts' RC232 RF modules and need an easy-to-use software tool to quickly create a fully functional wireless network? Download Radiocrafts' RC232 RCTools! 
The RC232 RCTools allow you to easily set up a fully operational wireless RC232 network and to generate the configuration data needed to configure the module for use in your specific application! It is a powerful and easy-to-use PC software that helps you during test, development and deployment of your RC232 modules.
The RC232 module is an exceptionally easy-to-use and effective cable replacement and networking protocol for bidirectional wireless transmissions from a transmitter to a receiver. It uses a UART interface and can be configured as point-to-point, point-to-multipoint, and peer-to-peer.
Learn how to install and setup the RC232 RCTools software in the videos below!
The RC232 modules were launched more than 20 years ago as Radiocrafts' first product line and is still popular today due to the modules' high performance by simplicity. The RC232 product range supports a vast spectrum of frequencies from 169 MHz to 2.4 GHz and has been sold all over the world. We have a product version for every application requirement you may need including very low cost, high radio reliability, narrowband industrial grade variants, globally supported frequency bands, and more.
Evaluation of our RC232 product line is easy with the RC232 RCTools. The tools include:
The Configuration and Communication Tool – Allows you to send simple data between the modules in a test set-up to verify that data is actually received as intended and that the PHY and Link layer works correctly.
The Spectrum Analyser – Allows you to see the amount of radio traffic that is present at the location of the antenna. This supports you to pick the best radio channel and to find a good location for the antenna, when designing the network.
Buy a development kit and download the RC232 RCTools below to start your quick and easy evaluation of our RC232 product line!