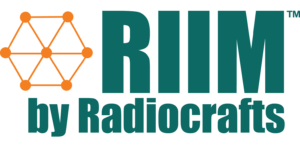 Do you need cost-effective, subscription free connectivity for your Smart Irrigation system? A solution which can support precision control for precision agriculture and can cover an area of approximately 80x80km on a single gateway with up to 1000 nodes?
These reasons among many others are why Radiocrafts' ultra-reliable Industrial IP Mesh solution, RIIM, is a new trend in Smart irrigation!
Radiocrafts is hosting a webinar on RIIM for Smart Irrigation on the 15th of October, 10am CEST. Sign up for the webinar here!

RIIM by Radiocrafts is an Industrial IoT wireless IP mesh network completely embedded in a module. It includes all the critical components for a complete wireless IP mesh and has no license free or subscription costs. It is ready to go when you buy the module.
In addition to the 80×80 km squared coverage in a semi open rural environment, RIIM also supports up to 1400 m for each mesh hop (28 mesh hops maximum), and up to 1000 nodes for a single border router (gateway), reducing the cost of the installation as less gateways are needed to support a large scale deployment. To cover a larger area, you simply add another border router.
RIIM is an exceptionally reliable solution that supports Time Synchronized Channel Hopping (TSCH) which was designed to make a mesh with less packet collision and higher reliability. A TSCH network has proven to have a reliability of up to 99.99%. RIIM is also protected by encryption using a pre-shared key and supports DTLS end to end security.
RIIM is also very low power for battery operation supporting long lasting projects. A RIIM node can last 10 years on a CR2772 (870 mAh capacity coin cell battery) while sending 12 bytes every hour, 24 hours per day.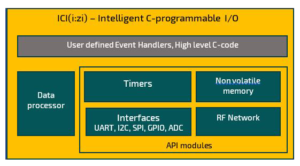 RIIM includes the ICI framework. An ICI application is always running on the module to tailor the module's behavior to the customers unique requirements. In its simplest form, the ICI application is just configuring the radio network, the module's hardware interfaces, and defines when to read and write to those interfaces. ICI makes it possible for the user to directly interface to virtually any sensor and/or actuator, such as a soil moisture sensors, water valve control, UV sensors, rain/freeze sensors, wind sensors, and more, removing the need for external circuitry. It supports mist computing to reduce bandwidth requirements and for fast responses to local events.

Precision Control for Precision Agriculture
A RIIM network supports 2-way symmetrical communication which is essential for valve control. This is an important point as many other IoT connectivity solutions have been designed with one-way sensor data communication in mind. Smart irrigation systems do not only need to collect sensor readings, they typically also need to control devices such as valves. Valve control is an example of down-link communication, something many popular LPWAN (Low Power Wide Area Networking) technologies struggle to support in a scalable manner. RIIM, on the other hand, was designed from the beginning to support this in a scalable manner.
Another benefit of a fully symmetric communication is that it can support Over-The-Air Updates. This means that the user can update the user defined ICI firmware when the network is deployed and in full operation, so new sensors/controllers can be added when the need arises. With Smart Irrigation Systems, often, many locations are hard to reach and will be in operation for a long time, so touch less updates of firmware are important.
If you are interested in testing RIIM for your own Smart Irrigation system, then Radiocrafts recommends you buy a RIM development kit. The RIIM development kit allows you to  quickly and easily create a wireless link or network where you can make a good analysis of the network performance! You can buy it here.
Radiocrafts is hosting a webinar on RIIM for Smart Irrigation on the 15th of October, 10am CEST. Sign up for the webinar here!