In our newest white paper, WP021: Choosing the Best IoT Connectivity Solution for a Given Use Case, Radiocrafts shares our expertise on wireless connectivity solutions, aiming at drawing a map over the IoT connectivity terrain and to position the Radiocrafts Industrial IP Mesh solution (RIIM) among the other technologies, e.g., LoRaWAN, Wi-SUN, Wirepas and more.
The purpose is not to find one best solution, but to identify the trade-offs and priorities that the user must take into account when considering wireless connectivity. It is all about finding the best solution for each use case with regards to maximizing business profit.
Radiocrafts is also hosting a webinar on this topic on Thursday, 4th of March. Register for the webinar here!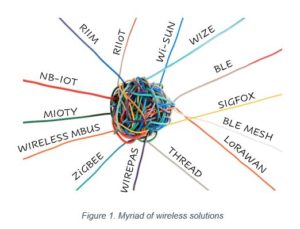 In this white paper we discuss, in detail, the pros and cons of key differentiators between the different technologies, mainly:
Network topology
4 GHz vs. Sub-1 GHz
Public or private networks
Range and Coverage
Quality of Service vs. Battery Consumption
Downlink control data
Battery Lifetime
We then go on to compare RIIM with other technologies with the goal of identifying trade-offs and priorities the user must consider when choosing a wireless connectivity solution for each use case. Mainly:
RIIM vs. LoRaWAN
RIIM (868 / 915 MHz Mesh) vs. Wirepas (2.4 GHz Mesh)
RIIM vs. other sub 1 GHz mesh – Uniqueness of RIIM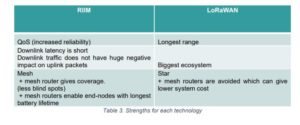 Within the wireless sub-category of sub-1 GHz mesh (the category RIIM fits into) there are still some features that are unique for RIIM.
Interested in testing RIIM for your own use case? Buy a development kit or samples here!