Radiocrafts has just released a new version of the RIIoT SPR SDK which includes support for the new RIIoT High Power Modules!
RC1880CFHP-SPR/GPR – high-power module supporting 27 dBm output power at 868 MHz.
RC1890CFHP-SPR/GPR – high-power module supporting 27 dBm output power at 915 MHz.
Radiocrafts' Industrial IoT, RIIoT, is an efficient, 2-way symmetric, wireless IIoT star network supporting long range and very low power at 868 / 915 MHz. It was designed to be very easy to implement and to meet the tough sensor and actuator connectivity requirements for the industrial IoT.

Benefits of the RIIoT High-Power modules include:
Designed to meet tough Industrial requirements with very low packet losses
Short development time – RIIoT is based on the SPR modules (leaf nodes), GPR modules (gateway node), and the RIIoT Network Controller, which includes all the critical components for a complete wireless industrial IoT network.
Low Power for coin cell or energy harvesting solutions.
2-way symmetric communication with short delays for control applications
Long range – The RIIoT Modules support two modes: 5 kbps and 50 kbps:

5 kbps mode – LoS range of 60 km and 2km in urban environment
50 kbps mode – LoS range of 20 km and 700 metres in urban environment

Future-proofed by Over-the-air Updates
Tailor made solutions through Radiocrafts' design services – Working with Radiocrafts, the standard solution can be modified to fit individual customer requirements that are not covered in the standard solution.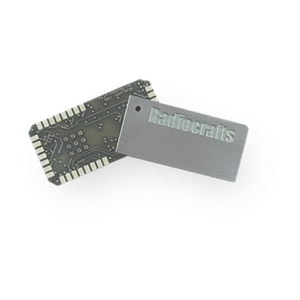 You can read more about the RIIoT network, parts and tools required to build a RIIoT network, documentation for RIIoT modules, and supporting software tools on Radiocrafts.com.
The High-Power RIIoT Module development kits and samples are now available for order as well! Contact your local distributor for more information. Also available on Digi-Key shortly!